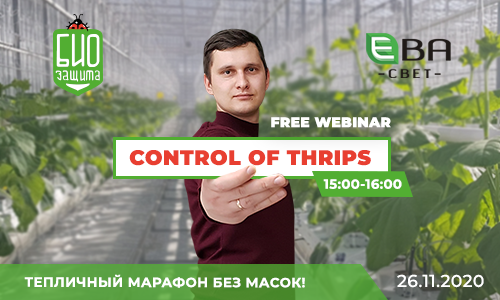 Today, 26.11.2020 at 15:00, as part of the free webinar "Greenhouse marathon without masks", our leading plant protection specialist Vladimir Moshkin has made a report about an actual topic: "Thrips control: strategy and solutions for industrial greenhouses."
We have thanked the company "Eva light" for organizing this event.
The following questions have been discussed: control of thrips in the soil, beneficial insects for control of thrips, effective drugs for killing thrips, how to catch thrips using traps, the technology of using pheromones and kairomones for control of thrips.
With great interest, the participants of the online – webinar have acquainted with Vladimir's practical advice, which is based on 10 years of experience in IPM.
There were a lot of interesting questions, and we're sure there's more to go. We propose to continue the dialogue, please, register on the site and write your questions below in the comments.